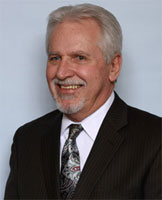 March 29, 2011, Lexington, S.C. - Stan Carter has joined First Reliance Bank as a Residential Lending Specialist for the Lexington, S.C. area.
Carter will join the Mortgage Department at First Reliance Bank which assists customers with the assessment of their lending needs and then helps them to determine which bank products can best meet their needs. He is the newest member of the Lexington branch's mortgage team whose mission is to provide outstanding customer service while helping customers to explore and understand their mortgage options.
"We're very happy to have Stan add his experience to our lending team," said Rick Saunders, president and chief operating officer of First Reliance Bank. "His contributions will help us to deliver on our purpose to make our customers' lives better through knowledge of our products and his welcoming manner."
Carter, a resident of Lexington, acquired extensive experience in insurance and mortgage banking over more than 30 years of working in the Carolinas. His background includes positions as vice president of mortgage lending at Security Federal Bank; branch sales manager at First Horizon Home Loan Corporation; president of TriStar Capital Corporation, a mortgage lender; vice president and branch manager at 1st Choice Mortgage/Equity Corporation of Lexington; and independent general agent.
"For more than three decades, Stan has used his outstanding interpersonal and financial skills in leadership positions in mortgage lending and insurance," Saunders said. "We are fortunate to have him join the team here at First Reliance and we think our customers will feel the same way."