Are you the kind of mom who loves looking out her kitchen window and seeing your kids playing with their friends in your own backyard? Do you love having your yard be the playground for neighborhood kids because you enjoy the comfort of knowing where your children are? But are you frustrated to see your yard littered with footballs, soccer balls, baseballs, GI-Joes, hats, flip-flops, popsicle sticks, juice boxes and other kid stuff just lying around? With a few tools, some paint and a little work, you can turn your backyard into a "field of dreams."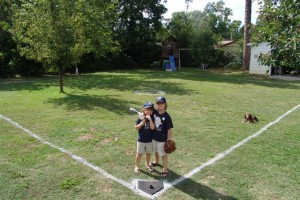 For example, building your own football field is easy. The kids can even help with this project. Use marking paint and rope for field markings. Quick-dry cement, pvc pipes, and couplings work great for goal posts. Get some rope and lay it out in a rectangle. Using white marking paint — and with the rope as a guide — create boundary lines. Now, take the same rope and mark the 50-yard line, then add more lines on each side. The end zone can be made with red and black marking paint and you can even proudly write your family's last name in big, bold letters in each of the end zones. Create an awesome family logo at the 50 yard line, put the goal posts in place, grab a football, and start to play. The paint will stay visible for about 7 or 8 weeks, and your kids will be proud to play with their friends on their very own backyard football field. We'll bet that you'll even discover Dad and his friends using it. Another option is to transform the backyard into a baseball field. Marking paint and rope are the main tools needed. Mark out the largest square that your backyard can accommodate and paint a large circle in the center for the pitcher's mound. Buy bases or make them from plywood squares. If you want to get fancy, you can even make or buy a scoreboard.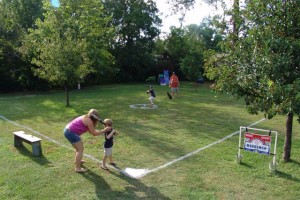 The ideas are endless for building your own fields of dreams. Think a giant hop-scotch course or even a wacky maze. Family time is so precious. Grass will always grow back. But the memories will last forever!