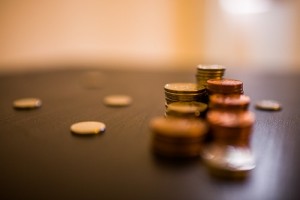 It goes without saying that marriage is a huge step that comes without a lot of responsibility and accountability. Not only are you joining your life with another individual symbolically for what is ideally forever, but you are also marrying many physical aspects of your life, such as finances and debt. While some couples may choose to keep their finances separate regardless of marriage, this can occasionally cause trust issues as you may question what your significant other is spending his or her money on. To foster trust and communication about finances with your significant other, we recommended that you join your financial accounts with your spouse after you marry.
We also suggest that you wait until you are married to join accounts. While you may be in love, and may even be engaged, there are some couples that never say "I do," and it can make breakups especially messy when checking and savings accounts are joined, or you share a house.
Tips for Combining Finances
Here are a few tips that we recommend for joining your finances after marriage:
Join Checking and Savings Accounts
It is important that as a couple, you are both involved in two crucial aspects of your finances: everyday expenses such as groceries and utility bills, and long-term savings and money for emergencies. Both spouses should be knowledgeable about what you make and how it is managed.
Arrange Automated Recurring Withdrawals and Direct Deposits for the New Joint Account
Before you or your spouse terminate any of your existing accounts, be sure that all automatic debits and deposits are moved to your joint account. Ensure that scheduled payments clear, and avoid using your debit cards until the transition is complete to avoid new pending transactions in the old accounts.
Schedule a Day and Time to Address Your Accounts
You and your spouse will want to pick a day and devote a few hours to opening and closing accounts, as well as transferring funds. Allow for more time if you are visiting multiple banks or credit unions.
Keep it Simple if You Use the Same Bank
Don't complicate things. You can either transfer funds from one account into the other, add the spouse to the newly shared account, and close the old account, or create an entirely new account. Also be sure that both of you bring appropriate photo ID's.
Choose Which Account to Close if You Don't Share a Bank
The spouse that chooses to close his or her account will receive a check or cash. Take the funds and your ID's to the new bank and either add the funds and the spouse's name to the other's account, or create a brand new one with both your names on the account.
While joining finances can sometimes seem like a hassle, it is an important part of sharing your life with another person and can simplify managing shared expenses. First Reliance makes joining or opening new accounts fast and convenient. Talk with one of our friendly associates today to start your joint checking and savings account!