Follow these simple steps to assess the pros and cons of different credit card offers.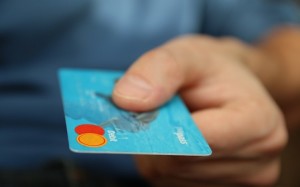 So you are in the market for a new credit card, but with the seemingly endless options available, how do you choose the best one? Use the steps listed below to evaluate what credit card may best support your spending habits and needs.
Review your credit rating.
If you already have a credit card, check to see if they provide your credit score for free. If not, the big three credit bureaus, Experian, Equifax, and TransUnion are federally mandated to provide you with a free credit score once every twelve months. You can access your free score through the federally approved website, AnnualCreditReport.com.
If your score isn't quite what you hoped, you can either adopt healthier financial practices to boost your credit, or dispute an error if you believe there has been a mistake.
Choose your card type.

When it comes to choosing a credit card, there are three basic types:
Low interest - This group consists of cards with introductory 0% APR, ongoing low interest offers, or balance transfer options. These cards are a good option for the customer that occasionally carries a balance, or in the case of the balance transfer card, needs to pay off a large balance without continuing to accumulate interest over a set period.
Rewards for purchases - These cards "reward" customers when they charge purchases with offers like discounts at major retailers, restaurants, and events, free airline miles, and cash back.
Credit building and improvement - If you have no credit or bad credit, you may be eligible for a secured credit card which requires you to provide a deposit of $200 or more, or a student credit card.
Narrow down your options.

Once you choose the card type that best suits your needs, shop around the different companies and select a card with the best terms. Consider things like:



Are there any associated fees (annual, balance transfer, foreign transactions)?


Do the card's benefits have a time limit (0% APR for the first year)?


How quickly and easily can you collect and use your awards?


Will this card help you build credit, and can you qualify for a card with better benefits later on?


Apply for the card that offers the best package.
If you are having trouble choosing between two or three similar cards, look at unique offers such as:



No expiration on rewards


No late fees or penalty APR


Reduced required spending


Credit cards provide a lot of benefits when used responsibly. First Reliance Bank offers several great credit card options with no annual fee, cash back bonuses, airline credits, and more. Apply online, call our toll-free number 888.543.5510, or stop by one of our branch offices and pick up an application today! For more great tips for everyday living, follow the Better Side of Life Blog provided by First Reliance Bank.