Get peace of mind knowing your home is safer with these burglary prevention tips.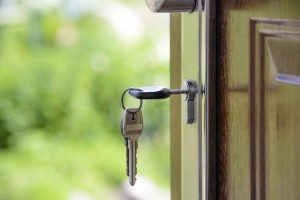 As a homeowner, one of your main priorities is to ensure the safety of your family, and to protect your home and property from theft and vandalism. The key to preventing break ins and vandalism is to make your home a challenging target, meaning the likelihood of being caught is high. Burglars prefer to target homes when the owner is absent, and often at night when it is dark and people are asleep to avoid detection. If a burglar suspects that you are home, or that they will attract attention while breaking and entering, they are more likely to move on to another, easier target where they won't get caught. If you want to strengthen your home's security and discourage theft, follow our recommendations listed below.
Adopt a Dog
Not only do dogs make loving pets, they also act as a strong deterrent to would-be burglars. A dog's bark can quickly alert you to people on your property, as well as tell thieves that they have been detected and to leave.
Maintain your Landscaping
Keep bushes and shrubbery trimmed around your property to remove cover for potential home invaders. Not only does a well manicured yard look good, but it also eliminates hiding spots. The same is true for people with 2 story homes and trees; keep limbs cut back to remove blind spots.
Lock Up Your Valuables
While it's common sense to lock your home when you're away and at night, people are often less diligent when it comes to their vehicles and expensive outdoor equipment. Keep your car doors locked, and store items like grills, lawn mowers, and bicycles in your garage or shed.
Fence In Your Property
A chain link fence creates a challenging obstacle for individuals looking to enter your yard without permission or notice, as well as steal any large expensive items. Fencing with sharp points can offer additional deterrents for climbing and passing property over the fence.
Lighten Up Your Property
Most burglars prefer to work as inconspicuously as possible, which can be difficult when your home and property are well lit. Add some motion sensor lights to your property, or upgrade your home's appearance with some landscape lighting that can double as a security feature.
Install a Security System and Cameras
Investing in a security system and surveillance cameras can add another layer of security and assurance for families. Newer technology also allows for smartphone synchronicity so that you can receive alerts and view real time camera feeds from anywhere, anytime.
Try Smart Home Lighting
To create the appearance that you are home while you're away, consider purchasing some smart LED bulbs that can be turned on and off from your phone. These bulbs can also be customized for your convenience by turning on and off as you arrive and leave your home. If you prefer a less expensive option, you can always go with timers, though they offer less flexibility.
Partner with Your Neighbors
Build relationships with your neighbors and have them look after your home when you are at work or out of town. They can alert you to suspicious activity at your home, as well as collect mail, put out trash cans, and other little things to help maintain the appearance that you are home when you're away for extended periods.
Install New Locks for New Homes
Whenever you're moving into a new house, it is important to have the locks changed to prevent anyone with a key from entering the home. The previous owner may have distributed copies of the keys, and you don't want all those strangers to have access to your home and family.
Use a Safe Deposit Box
Smaller safes and locked boxes could potentially be stolen, so for important, irreplaceable valuables, store them in a safe deposit box, which are available at most First Reliance Bank branch locations.
Don't Discuss Trips on Social Media
Sharing the details of an upcoming vacation on social media like Facebook and Twitter can paint a giant bullseye on your home for burglary. For your security, it's best to never offer specifics about upcoming trips, and save your vacation posts and pictures for when you return home.
With a few security focused habits and upgrades, you can help prevent the victimization of your home and family. If you are thinking of investing in a few security features for your home, contact our representatives at First Reliance Bank to learn about our personal loan options. Follow the Better Side of Life Blog for more great tips on improving your financial health.