By Jackie Stewart
This article reprinted from American Banker magazine.  Published October 19 2017, 11:00am EDT

First Reliance Bancshares in Florence, S.C., has finally gotten involved in the consolidation wave sweeping the Carolinas.
The $435 million-asset company recently announced the first acquisition in its 20-year history, agreeing to buy Independence Bancshares in Greenville, S.C.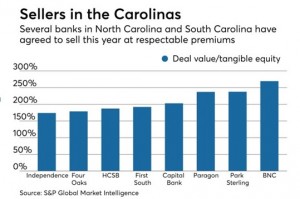 The deal and the company's recent entry into a North Carolina market are designed to help the company stake a claim to independence. While some risk is involved, the strategies are good ones if they are well executed, industry experts said.
Rick Saunders, First Reliance's president and CEO, is convinced the company will succeed due to a culture that places a high value on employees.
"We're big believers that associates come first, customers are second and shareholders are third," Saunders said. "We believe engaged associates equal loyal customers. With those two working well, then the shareholder wins."
The Carolinas, like much of the country, suffered a steep decline in banks after the financial crisis. Since 2007, the number of bank holding companies based in South Carolina has fallen by 24%, to 42 institutions. In North Carolina, the number of state-chartered banks has been roughly cut in half, with less than 50 remaining.
Saunders believes his bank can take advantage of disruption from recent mergers to reach $1 billion of assets in the next five or six years, using acquisitions and organic growth. Doing so should give his investors more liquidity.
"Once you cross that line the talent pool expands [and the] investor pool expands," he added. "One of the reasons community banks have to sell is there's no place for their investors to get out."
First Reliance has been interested in acquisitions for a long time, but it was a relatively young bank before the financial crisis hit. During the recession, the company was burdened by bad loans, many of which were tied to exposure along South Carolina's coast.
Saunders, who has a substantial ownership stake in First Reliance, was reluctant to raise capital and dilute existing shareholders. While other banks slashed prices to quickly unload soured loans, First Reliance's team exercised restraint and eventually sold them, on average, for 98 cents on the dollar, he said.
It was long, difficult process, but it seemingly paid off. First Reliance recently sold $25 million in common and nonvoting stock in a private placement — its first institutional raise — to help fund its planned purchase of the $90 million-asset Independence.
Saunders said he opted against de novo expansion in Greenville, South Carolina's largest market, because the near-term margins would be too tight.
First Reliance's strategy makes sense, said Jeff Adams, a managing partner at Banks Street Partners, an investment bank in Atlanta. Greenville is attractive to banks due to a robust economy and relatively affluent population. Its proximity to Charlotte, N.C., and Atlanta is another plus.
"Unless you can hire a very large team from another bank it is hard to make a splash very quickly by going in de novo," Adams said. "If you can buy a bank that is smaller for a lower valuation, you can establish a presence."
While Greenville is highly competitive, a small bank can compete by providing personal service and by making sure it has the latest technology, said Trent Fleming of Trent Fleming Consulting. Though customers expect the type of technical functionality marketed by bigger banks, he said good community banks "shouldn't lose sight of the individual one-on-one relationships that will still make them successful."
Saunders said he is open to more acquisitions, though he prefers to grow organically. He believes there are potential sellers with boards, investors or leaders who are ready to retire or find an exit strategy.
First Reliance would look for traditional community banks with $100 million to $200 million and straightforward lending operations. Those targets should be midsize markets and have a good deposit mix.
In addition to Greenville, First Reliance is expanding into North Carolina in hopes of taking advantage of merger-related disruption. It has already opened a loan production office to cover the Winston-Salem and Lexington markets.
Yadkin Financial and BNC Bancorp, North Carolina banks that had operated in those markets, were recently bought by an out-of-state acquirer. Capital Bank Financial has also agreed to sell itself.
First Reliance hired Alan Lomax, a former city executive at First Bancorp in Southern Pines, N.C., to oversee the Winston-Salem expansion. Lomax joined First Reliance in August, based on his LinkedIn profile.
First Reliance, which targets small businesses with less than $10 million in annual sales, has found it challenging to recruit lenders who want to focus on commercial-and-industrial loans. It is an area that many institutions are pursuing.
The key to successfully recruiting lenders involves convincing prospects that a bank has ample capital and a desire to remain independent, said Tony Plath, a finance professor at the University of North Carolina at Charlotte.
"Having a secure position with a company you may not love is better than the uncertainty of another environment," Plath said.
First Reliance prepared for its expansion by hiring a chief credit officer and implementing an improved underwriting platform and loan approval process, Saunders said. The company is also intent to grow on its own for the foreseeable future.
"I never started the bank with some financial windfall in mind," Saunders said.
"I started it because I'm passionate about how banks treat employees, customers and their communities," Saunders added. The last recession "held me back longer than I wanted, but I have a few years left to do what I want to do and what I think I am here to do."

Jackie Stewart covers community banks and mergers and acquisitions for American Banker.