And Twelve Associates Awarded President's Club
April 15, 2013,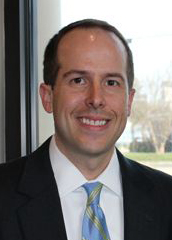 Florence, S.C.  –
 First Reliance Bank recently announced  that Jeremy Groom, Senior Vice President of Compliance and Risk Management, is the First Reliance Associate of the Year for 2013.
Each year, as part of the bank's associate rewards and recognition program, all associates have the opportunity to nominate an outstanding associate and submit a detailed reason of why the chosen associate deserves the award.  A committee of  associates, then carefully reviews the nominations and selects the associate who goes above and beyond performance expectations and who is the best role model for living the values of First Reliance Bank.  Groom was selected from among the bank's 100 associates.
In his twelve years of service with First Reliance Bank, Groom has demonstrated a career of upward movement because of his consistent dedication to produce excellent work while continuously improving his knowledge of banking.  He has helped the bank navigate through one of the most challenging times as compliance and bank regulation have become a focus in today's banking world.  Many of his accomplishments were self motivated and his proactive approach have pushed the bank forward to remain a strong secure contender in today's ever changing banking world. Jeremy is on the board of directors for Big Brothers Big Sisters and is an active Big Brother. He is also an AWANA leader at the Church of Sandhurst.
"As a top performer, Jeremy was the clear choice for associate of the year," stated Rick Saunders, President and CEO of First Reliance Bank.  "He consistently demonstrates that you can achieve through self-learning, initiative, and a commitment to excellence to ensure the success of our bank.  Jeremy's dedication to contributing to the community by actively participating in local organizations supports our bank's purpose and mission."
As the 2013 Associate of the Year, Groom receives 1,000 shares of First Reliance Bank stock, $750 cash, one week of additional vacation, an iPad and membership in the President's Club.
First Reliance also announced the President's Club winners for 2013.  President's Club awards are for outstanding sales performance, top service partner, operational excellence, professional, and leadership.   The 2013 President's Club Winners are:  David Mullins, Customer Service Specialist, Nicole Bishop, Customer Service Specialist, Nancy Yonce, Relationship Banker Assistant, Dwayne Brockington, Relationship Banker, Neil Oliver, Relationship Banker, Casey Carbery, Assistant Branch Manager, Chad McMurray, Branch Manager, Melinda McLamb, Residential Mortgage Lender, Ann Dowling, Loan Document and Closing Specialist,  Donna Cady, Vice President of Operations, Mike Dowling, Vice President of Information Technology, Jeremy Groom, Senior Vice President of Compliance and Risk Management and  Hal Cobb, Vice President of Asset and Portfolio Management.
All award winners and their guests will have an exclusive dinner with the bank CEO and have an opportunity to share what the bank is doing well and what ideas they would like to share to support the future growth of the bank and to help it achieve its mission of being the largest and most profitable bank in South Carolina.
First Reliance Bank, one of the Best Places to Work in SC,  promises associate's opportunities to do their best work, committed and caring leadership, and rewards and recognition such as the Associate of the Year Award and President's Club Awards.
 
ABOUT FIRST RELIANCE BANK
First Reliance Bank, founded in 1999, has assets of approximately $400 million, and employs over 100 highly-talented associates. The bank serves the Columbia, Lexington, Charleston, Mount Pleasant and Florence markets in South Carolina. The bank has been recognized as "One of the Best Places to Work in South Carolina" by the SC BIZ for seven consecutive years and was named 2009 Lender of the Year by the South Carolina Housing Authority. First Reliance Bank offers several unique customer programs which include a Hometown Heroes package of benefits to serve those who are serving our communities, Check 'N Save, a community outreach program for the unbanked or under-banked, a Moms First program, and an iMatter program targeted to young people. The Bank also offers a Customer Service Guaranty, a Mortgage Service Guaranty, FREE Coin Machines for customers and 8-8 Extended Hours in all of their Florence, Charleston, West Columbia and Lexington locations and is open on most traditional bank holidays. Its commitment to making customers' lives better and the idea that "There's More to Banking Than Money" has earned the bank a customer satisfaction rating of 98% (2011 results from an outside survey firm) and the number one market share in its headquarters City of Florence, S.C. First Reliance Bank is traded as FSRL.OB. Information about the Company is available on the company's web site at www.firstreliance.com.