July is a time for food, fireworks, family and friends. It's one of those special times of year when we pause to celebrate our nation and appreciate our community. In keeping with that spirit, it's also a good time to reflect about those who have contributed time and energy toward helping us have a better life.
Danny Turner is one such person. A successful businessman, Danny owns a company that provides good jobs for 40 employees.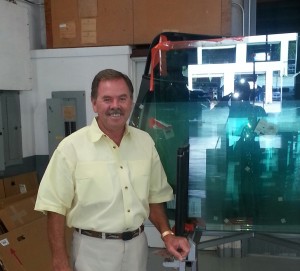 His story starts at the foot of the Smokey Mountains in Greenville County, South Carolina, where he was born.
Like many young people, he served our country after he graduated high school. He joined the U.S. Navy and spent four years working in navigation and nuclear submarines.
When Danny finished his tour with the Navy, he moved to the Florence area. He got a job running the Florence-based operation of a glass company headquartered in Atlanta. After working for the company for 11 years, he started his own business, Turner's Auto Glass, in 1982. Today, Turner Auto Glass serves 15 counties in the eastern part of South Carolina, working from six locations: Camden, Sumter, Manning, Florence, Marion and Little River.
In the 1990s, Danny interacted with local banks regularly. But he couldn't help feeling there had to be a better way of banking. That feeling turned to action when bank founders Rick and Paul Saunders and Dale Porter began putting together a core of dedicated people to establish First Reliance Bank.
Their philosophy appealed to Danny. It would be a bank designed and operated with the community in mind. It would be built on strong values and operate on trust and relationships. Most of all, it would work to make a real difference in the lives of its customers — to help them have a better life.
Danny liked what he saw, and soon became a founding partner of First Reliance Bank. He served on the board of directors for 10 years.
To this day, Danny and wife, Patricia, rely on First Reliance for both personal and business banking. Danny says he's been extremely happy with everything the bank has ever done for him and he knows he can rely on Paul, his Relationship Banker at First Reliance, to assist with all his banking needs.
"Not only does First Reliance's team work hard as bankers," says Danny. "They're a good and personable group of individuals. I really enjoy working and banking with them. Paul and Rick Saunders are easy to talk to and they have a great knowledge of banking."