Have you been dreaming of getting a boat, but can't decide if a boat's really right for you? Thinking about how much fun a boat could be, but not sure you can afford one?
Here are five good reasons to bring a boat into your family's life, as well as some helpful tips on how to buy and finance a boat.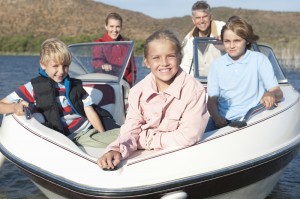 A boat can bring the family closer. A boat is a recreational vehicle that the whole family can enjoy. It's fun to go out on the water and make memories together. It's exciting to look back to the land and get a different perspective. A boat is a vehicle for exploring quiet coves or skiing over the open water. And where else can you be sure you'll get uninterrupted time together?
Fellowship. A day out on the water with your friends is a bonding experience. As a boater, you'll also find that you'll make new friends as you meet other boaters. Sharing tips and knowledge of boating is the foundation for many friendships forged at the marina. Got a maintenance question? Need directions to a great fishing spot? Searching for a good restaurant where you can dock and dine? There is never a shortage of folks happy to help you out.
Being on the water takes you close to nature. Seldom will you ever be as close to nature as you will be when out on your boat. You'll see wildlife from a different point of view. From birds to gators to dolphins, rays and sharks, there's a wide world out there in the salt and fresh water around us. Your kids might discover a love of snorkeling or a passion for diving. They'll thank you for it later.
Dinner's just below the surface. Fishing is just more fun from a boat than from a pier or shoreline. The sway of the boat contributes to a feeling of adventure, and that makes reeling in a catch all the more rewarding.The only thing better is cooking up the day's catch and spinning tales of how you caught dinner from your boat.
Leave the dock and your troubles behind. Did you know that going out on a boat is one of the top three stess-relieving activities? Deadlines and obligations get left behind once you cast off.
Shopping & Financing Your Boat
Should you shop for a new or used boat? There are pros and cons to both. Here's a helpful video that could help you decide.
Will you pay cash or finance your boat? If you plan to finance, many experienced boat owners recommend that you discuss financing with your bank before you even start shopping. A little pre-planning will help you determine what you can afford, and then you can better set your sites on a price range that's right for you.
Call 888.543.5510, email CustomerCare@firstreliance.com, or stop by any of our branches to find out how we can help you get the boat you want. We finance new and used boats and marine boats up to 10 years old, as well as recreational aluminum Jon boats, Jet Skis and Personal Water Craft up to four to five years, depending on the age of the boat.
See you on the water!