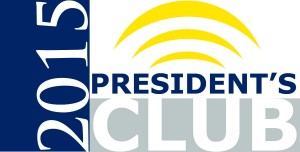 Feb 24, 2015, Florence, S.C. – First Reliance Bank recently announced that seventeen associates have been named to the 2015 President's Club.
Each year, as part of the bank's associate rewards and recognition program, all managers have the opportunity to nominate an outstanding associate and submit a detailed reason of why the chosen associate deserves the award. Executive Management then carefully reviews the nominations and selects the associates who go above and beyond performance expectations and who are the best role models for living the values of First Reliance Bank.
President's Club awards are for outstanding sales and service, operational excellence, professional, and leadership. The 2015 President's Club Winners are: Wendy Cooley,Charleston Service, Neil Oliver, Charleston Sales, Donna Smith, Indirect Sales, Gail Berry, Lexington Service, Jason Koth, Lexington Sales, Sherry Byrd, Mortgage Operations, Johnny Nexsen, Mortgage Sales, Robyn Paul, Mortgage Sales, Phyllis Brosh, Wholesale / Correspondent Mortgage, Shayna Wallace, Florence Service, Marie Wheeler, Florence Service, Denise Lee, Florence Sales, Angela Cook, Florence Sales, Cammie Clavon, Customer Care and Deposit Ops, Darlene McCall-Grant, Professional, Mike Dowling, Professional, Wendy Edgerton, Loan Operations.
"Announcing the associates who are in the President's Club is always something I look forward to each year. It's just as hard for us to pick our top winners each year as it was when we first started the bank, which says something about the talent and quality of people we hire," stated Rick Saunders, President and CEO of First Reliance Bank. "President's Club associates go above and beyond their responsibilities to ensure the success of our customers and the bank. They are dedicated to contributing to the community and often are in leadership roles where they coach others to succeed. They are often described by our associates as inspiring others to achieve more and they help us fulfill our bank's purpose, to make the lives of customers better."
President's Club Associates receive 100 shares of First Reliance Bank stock, cash rewards, one week of additional vacation, and membership in the President's Club. Winners and their guests will have an exclusive award celebration with the bank CEO and have an opportunity to share what the bank is doing well and what ideas they would like to share to support the future growth of the bank and to help it achieve its mission of being the largest and most profitable bank in South Carolina.
First Reliance Bank, one of the Best Places to Work in SC for ten consecutive years, promises associate's an opportunity to do work that makes a difference.