When you see an RV rolling down Interstate 95 or heading toward the coast, do you take a long hard look and imagine yourself inside?
Are you tired of vacationing in hotel rooms, facing the hassle of air travel and paying the cost of it all? Maybe you've already cut vacation costs by squeezing the family into your pop-up camper, but feel ready to move up to a more luxurious option.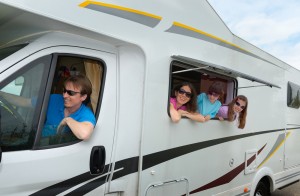 It might be a good time to get an RV. Over 8 million households enjoy the cost-savings and freedom that comes with owning an RV. In fact, more and more families are buying RVs every year, according to a recent survey of consumers by the University of Michigan.
It's easy to see why. An RV is a very cost-effective way to travel — especially for families of four or more. A recent study by travel firm PKF Consulting revealed that those who vacation in their RV save as much as 61 percent over those who travel and stay in hotels — even when the cost of owning the RV and buying fuel are factored in.
But what people love the most about owning an RV is the sense of freedom it provides.
While many RV owners take long trips and vacations, the majority of owners actually enjoy their RV mostly over weekends, according to the 2012 American Camper Report. Completely in control of their own time, they just pick up and go when and where they want. In an RV, the journey is part of the fun.You travel at your own pace, and enjoy the benefits of having a home away from home. There's always a nice suite of rooms with comfortable beds.The kitchen helps you save on restaurant expenses. And when you stop at an RV park, you can enjoy many of the same recreational amenities found at hotels.
If you've never driven or overnighted in an RV before, consider renting first and taking it for a short trip so that you can see how a particular model works for your family.
Once you're ready to purchase your RV, check with First Reliance Bank about financing. Call 888.543.5510, email CustomerCare@firstreliance.com or stop by any of our branches to find out how we can help get you on the road and having fun!