Spring is here and most South Carolinians are beginning their love affair with cooking outdoors, eating outdoors and just plain being outdoors!
There's no better place to enjoy those things than on your own backyard deck.
Depending on its size and design, a deck can be a good do-it-yourself project. If you and your buddies are handy, you might even be able to build one over a weekend. Some home improvement stores will provide you with design help, recommend materials, and volunteer advice if you hit a snag. There are even online guides to show you how to build a deck step by step.
But maybe you'd prefer to bring in a pro so you can kick back and just observe the deck building process. What should you ask before you hire that pro?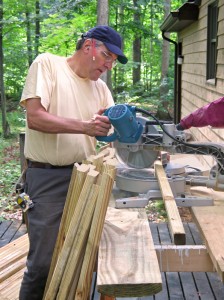 No matter how you plan to move forward with your deck project, there are some important things to think about before you even start. As you think about size, design, color and materials, remember that those considerations are just the tip of the iceberg when you're building a deck. Here are some other things to consider before you begin construction:
Is a deck a good value? Okay. You're not really thinking about that so much as you're picturing yourself in a comfy deck chair sipping a tall iced tea. But, keep in mind that it's always good to determine if an optional investment in your home will make good financial sense in the long run. You should be able to count on a big home improvement like a deck delivering a decent return on investment if you ever put your house up for sale. As a highly-desirable amenity for many home shoppers, a deck may be just the thing that helps to sell your home. And, Remodeling Magazine's "Remodeling Cost vs. Value Report for 2017" says about 71 per cent of the cost of building a deck can be recouped when a house is sold.
Will you use the deck often enough to make the cost of building it worthwhile? Think bigger than just using your deck as a platform for your cookouts. With comfy furniture, lamps and even a TV, it could become your family's favorite gathering place. The cost of those things may seem expensive at first, but consider what you would spend building and furnishing a new indoor family room. An often-used outdoor room is a far better investment. Remodeling Magazine estimates that an indoor family room costs 4 times more to build than an outdoor room on a deck, but the indoor room returns only about 63% of its cost when a house is sold.
How much should I budget to build my deck? If you're designing and building the deck yourself, you'll need to factor in the cost of all materials and any costs associated with permitting. If you hire a pro, all those costs — plus the contractor's fee — need to be considered. But a contractor should be able to provide a firm price on the whole deck project, from design through permitting, build and finish.
Can I finance a deck? Absolutely. Interest rates are the lowest they've been in decades, so it makes sense to finance home projects. After you've settled on the cost of your deck project, stop by one of our branches or contact one of our customer care associates. Since a deck is a home improvement, you might want to consider a Home Equity line of credit. Or perhaps an unsecured loan would work best for you. We'll answer all your questions about financing options, and help you determine which kind of financing will work best for you and your family.
Spring is here. Isn't it time you got started on your deck?