Get a beautiful dress for a fraction of the cost with these money saving tricks.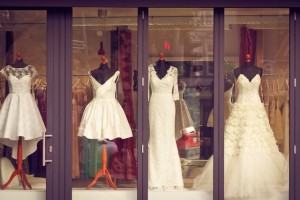 Weddings have become increasingly expensive over the years, with some couples spending as much on their big day as you would a brand new car.  One of the most important features of a wedding is the bride's wedding gown, which can cost thousands of dollars, easily inflating your budget.  However, if you are looking to reduce costs without losing quality, and maybe have a little extra cash for the honeymoon, here are six tips to save money on your bridal gown.



Buy Gently Used - I know what you're thinking, it's bad luck to wear a used wedding gown. However, many women choose to make space in their closets by taking their gowns to consignment shops. Others brides will buy multiple dresses until they can make up their mind on which one to wear, and take the remaining new dresses with tags still attached to the consignment shop.


Save with Online Dress Shopping - Shopping online is nothing new, however you may have not thought about buying your wedding gown through the internet. You can find great deals, especially on shopping holidays, and receive the same great quality as you would buying in-store at a much lower cost.


Try a Bridesmaid Dress - Skip the traditional white wedding gown for a beautiful, less expensive bridesmaid dress. You will not only have more variety when it comes to designs and colors for complementing your skin tone, but you will spend significantly less money as well.


Enjoy Flexibility with Bridal Separates - Rather than buying a dress, try mixing and matching bodices with skirts to not only choose a design that perfectly complements your figure, but doesn't break the bank. You can also purchase multiple styled skirts so that you can look breathtaking at your ceremony, then switch out for something more mobile to get down at your reception. Ditch the train and bust a move!


Get Sold on Samples - With new designs offered each season, shops and boutiques have to make room for new inventory by selling off older dresses. Brides-to-be can find beautiful gowns at greatly discounted prices. Be sure to call ahead to find out what sizes are being sold, and be prepared for fast decision making because dresses go quick in a sample sale.


Upgrade Simple Gowns - Instead of paying thousands for dress with all the decorative touches, consider purchasing a much simpler dress at a lower cost and adding those decorative features yourself. Altering a plain dress to add lace, sequins, beading, or rhinestones will cost you much less than buying one already decorated. Plus you are guaranteed to have a one-of-a-kind bridal gown.


For more money saving advice for every aspect of your life, follow the
On the Better Side of Life Blog
provided by First Reliance Bank.  Come by today to speak with our friendly associates, and begin your path to financial stability.