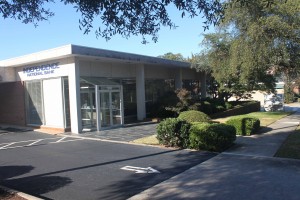 FLORENCE, S.C., Jan. 24, 2018 -- First Reliance Bancshares, Inc. (OTC Pink:  FSRL) ("First Reliance") today announced that it completed the acquisition of Greenville, South Carolina-based Independence Bancshares, Inc. (OTCQB:  IEBS) ("Independence") effective January 23, 2018.  Independence's bank subsidiary, Independence National Bank, was merged with First Reliance's bank subsidiary, First Reliance Bank, with First Reliance Bank continuing as the surviving bank.  The full conversion of the Independence National Bank systems is expected to be completed by March 5, 2018.
The acquisition of Independence National Bank expands First Reliance's presence in the dynamic Greenville, South Carolina market and is an integral part of the bank's broader strategy to expand its footprint in top-tier markets throughout North and South Carolina.  The acquisition gives the existing First Reliance team in Greenville additional resources to expand its presence in the market, and provides further momentum in executing the bank's targeted expansion strategy.  First Reliance is a strong partner in all of the communities it serves, and is excited to expand its role in the Greenville community.
"This is a transaction about a true local community bank acquiring one of the finest banking franchises remaining in Greenville, South Carolina.  We are thrilled to welcome all the associates at Independence to the First Reliance team.  As we work through the integration, our commitment to our customers will remain the same -- to continue to deliver a superior community banking model of strong relationships and incredible service.  We are passionate about our mission to make the lives of our customers better and look forward to sharing our passion and values with the Greenville customers who value the loyal relationship they have with the Independence National Bank team," said Rick Saunders, President and CEO.
The closing of this transaction comes on the heels of several new significant developments for First Reliance over the past six months, including:  raising $25.1 million of additional capital in September 2017; Jack McElveen joining the bank in September 2017 as Chief Credit Officer; Kemper Kenan joining the bank as City Executive for Greenville, South Carolina in late 2017; David Barksdale joining the bank as President of North Carolina in early 2018; Ben Brazell being named as President of South Carolina in early 2018; and Ron Paige joining the bank as City Executive for Myrtle Beach, South Carolina in early 2018.
The combined Company is expected to have approximately $550 million in assets, $370 million in gross loans, $440 million in deposits, 11 banking offices in South Carolina, including a branch in Myrtle Beach, South Carolina expected to open in February 2018, and a loan production office in Winston Salem, North Carolina.
Hovde Group LLC, with lead banker Michael P. Corso, assisted First Reliance in its recent $25.1 million capital raise, as well as, the acquisition of Independence.