Active and Retired Military Are A Segment Supported In The Bank's Unique Hometown Heroes Program
[caption id="attachment_5451" align="alignright" width="300"]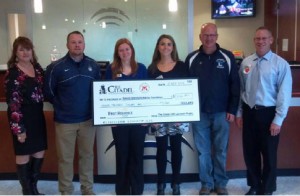 The Citadel Lacrosse Team, in conjunction with the Virginia Military Institute and First Reliance Bank presented a check to the Special Operations Warrior Foundation.[/caption]
November 28, 2012, Charleston, S.C.
—   The Citadel Lacrosse Team, in conjunction with the Virginia Military Institute and First Reliance Bank presented a check to the Special Operations Warrior Foundation in the amount of $3,000.  The Special Operations Warrior Foundation provides full four- year scholarships to children of deceased special operations veterans from all services. The Special Operations Warrior Foundation in the past year has provided over $4,000,000 in financial assistance to the children of fallen soldiers.  The Special Operations Warrior Foundation is only one of 5% of all charities in the country to continually receive a 4 star rating for financial efficiency. Michael Grimm, the head coach of the Citadel Lacrosse Team and 10 year Special Operations veteran says, "We play for those who have fallen and their families".  Michael Grimm is a 2002 graduate of The Citadel and has taken the lacrosse program to great heights over the past two years playing teams such as West Point, The Naval Academy, College of Charleston and making it to the South Eastern Lacrosse championships in Greenville, SC. First Reliance Bank, a partner of the Citadel Lacrosse team was pleased to help present the check with a matching donation.  "We feel very strongly about supporting active and retired military so we developed a Hometown Heroes Program which offers these heroes unique benefits and recognition events. It's the least we can do for those who serve and protect us," said Rick Saunders, CEO. For more information on the Special Operations Warrior Foundation, please visit their website at
www.specialops.org
  or the bank's Hometown Heroes Program visit
www.firstreliance.com
.
ABOUT FIRST RELIANCE BANK
First Reliance Bank, founded in 1999, has assets of approximately $430 million, and employs over 110 highly-talented associates. The bank serves the Columbia, Lexington, Charleston, Mount Pleasant and Florence markets in South Carolina. The bank has been recognized as "One of the Best Places to Work in South Carolina" by the SC BIZ for six consecutive years and was named 2009 Lender of the Year by the South Carolina Housing Authority. First Reliance Bank offers several unique customer programs which include a Hometown Heroes package of benefits to serve those who are serving our communities, Check 'N Save, a community outreach program for the unbanked or under-banked, a Moms First  program, and an iMatter program targeted to young people. The Bank also offers a Customer Service Guaranty, a Mortgage Service Guaranty, FREE Coin Machines and 8-8 Extended Hours in all of their Florence, Charleston, West Columbia and Lexington locations and is open on most traditional bank holidays. Its commitment to making customers' lives better, and the idea that "There's More to Banking Than Money" has earned the bank a customer satisfaction rating of 99% (2012 results from an outside survey firm.) First Reliance Bank is traded as FSRL.OB. Information about the Company is available on the company's web site at
www.firstreliance.com
.
###