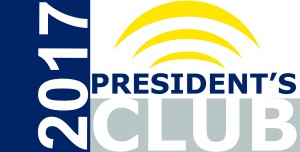 March 29, 2018, Florence, S.C.  – First Reliance Bank recently announced that eighteen associates have been named to the 2017 President's Club.
Each year, as part of the bank's associate rewards and recognition program, all managers have the opportunity to nominate an outstanding associate and submit a detailed reason of why the chosen associate deserves the award.  Executive Management then carefully reviews the nominations and selects the associates who go above and beyond performance expectations and who are the best role models for living the values of First Reliance Bank.
President's Club awards are for outstanding sales and service, operational excellence, professional, and leadership.   The 2017 President's Club Winners are: Marie Wheeler, Florence Service,  David Mullins, Florence Service,  CM Brown, Florence Sales, Pam McCaskill, Florence Sales,  Tracy Brown, Lexington Service, Jason Koth, Lexington Sales, Bobby Mathewes, Charleston Sales, Shaniqua Pinckney, Charleston Service, Tina Tran, Greenville Service, Connie Griffin, Greenville Sales, Tracie Lang, Mortgage Operations, Toni Duncan, Mortgage Operations, Johnny Nexsen, Mortgage Sales, Robyn Paul, Mortgage Sales, Brett Frazier, Credit Admin/Loan Ops, Wendy Edgerton, Dealer Services/Collections , Cammie Clavon, Deposit Operations/Call Center, Pam Rhoads, Professional.
"Announcing the associates who are in the President's Club is always something I look forward to each year.  It's just as hard for us to pick our top winners each year as it was when we first started the bank, which says something about the talent and quality of people we hire," stated Rick Saunders, President and CEO of First Reliance Bank.  "President's Club associates go above and beyond their responsibilities to ensure the success of our customers and the bank.  They are dedicated to contributing to the community and often are in leadership roles where they coach others to succeed. They are often described by our associates as inspiring others to achieve more and they help us fulfill our bank's purpose, to make the lives of customers better."
President's Club Associates receive 100 shares of First Reliance Bank stock, cash rewards, branded apparel, and membership in the President's Club.  Winners have an award celebration lunch with the bank CEO and have an opportunity to share what the bank is doing well and what ideas they would like to share to support the future growth of the bank and to help it achieve its mission of being the largest and most profitable bank in South Carolina.
First Reliance Bank, one of the Best Places to Work in SC for twelve consecutive years, promises associate's an opportunity to do work that makes a difference.
ABOUT FIRST RELIANCE BANK
First Reliance Bank, founded in 1999, has assets of approximately $408 million, and employs over 130 highly-talented associates. The bank serves the Midlands, Low Country, N. Myrtle Beach, Loris and Florence markets in South Carolina. The bank has been recognized as "One of the Best Places to Work in South Carolina" by the SC BIZ for eleven consecutive years. First Reliance Bank offers several unique customer programs which include a Hometown Heroes package of benefits to serve those who are serving our communities, Check 'N Save, a community outreach program for the unbanked or under-banked, a Moms First program, and an iMatter program targeted to young people. The Bank also offers a Customer Service Guaranty, a Mortgage Service Guaranty, FREE Coin Machines for customer use and is open on most traditional bank holidays. Its commitment to making customers' lives better, and the idea that "There's More to Banking Than Money" has earned the bank a customer satisfaction rating of 95%.  First Reliance Bank is traded as FSRL.OB. Information about the Company is available on the company's web site at www.firstreliance.com.