Did you know that there are more hungry people living in the U. S. today than at any time since the U. S. Department of Agriculture began gathering data in the 1990s? Nearly 49 million Americans don't get enough nutritious food on a regular basis.
And as Charles Dickens wrote in A Christmas Carol, "it is at Christmastime that want is most keenly felt."
Many of those hungry people live in communities served by First Reliance Bank, so we've decided to do something about it. But we need your help.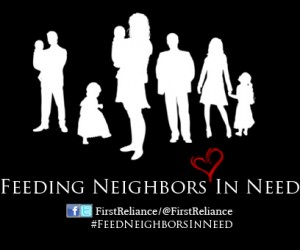 This holiday season, won't you help us feed our neighbors in need?
We're launching a drive to provide 500 meals to those in communities served by our bank and its branches.
Together, First Reliance Bank and you can help fill hungry bellies and make this season just a little brighter.
The drive will run through January 21, 2013. Here's ...