Relay For Life of Florence County raises over $190,000 in 2015, surpassing their goal by over $30,000.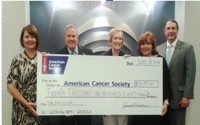 Florence, SC (September 2, 2015) – As the 2015 season of Relay For Life closes, Florence County celebrates an outstanding Relay season! On April 25, 2015 Relay For Life of Florence County hosted its 21st year with a nine hour walk at Freedom Florence Recreational Complex, in spite of some unfavorable weather conditions. "Weather doesn't stop a cancer patient's treatment and it didn't stop us", said Relay For Life Community Manager, Chinel Boateng.
Teams from Assurant, PGBA, and First Reliance Bank were the top fundraising teams this year.
"Relay For Life allows the entire community the opportunity to do something positive when so much negative surrounds the disease", said 2015 Relay For Life of Florence County Event Lead, Katrina Graham. "I am proud of Florence County for coming together to support one another ...