Would you like to help us honor someone who is active or retired military, a military veteran, a deceased veteran, in the Reserve Forces or the National Guard? From October 1 through Veterans Day, November 11, First Reliance Bank will be recognizing this very special segment of our Hometown Heroes program and raising money for those who protect us!
And we have three ways that you can be part of this effort and help raise up to a total of $1,000 for the Wounded Soldiers Foundation.
[caption id="attachment_5029" align="alignright" width="150"]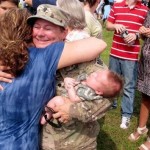 Click image to enlarge[/caption]
1. Go to our Facebook page and post a photo or video 
of your personal and special military heroes. Tell us how they are related to you (Grandfather, Dad, Mom, sister, friend, etc.), and let us know which branch of the service they serve in or have served in. Be sure to list what they ...